Success story of the AHT Jumbos
Success story
of the AHT Jumbos
The development of the jumbos can be described as an important milestone in the history of AHT. The devices were given the name Jumbo by the sales manager at that time Hannes Langeder. At the end of 1983, at the suggestion of an Italian ice cream customer, the idea of ​​developing a glass lid chest with an outer skin liquefier came up for the first time. The main advantages of these chest freezers, which were new at the time, are quickly explained: They have a much larger interior, can be placed anywhere in the store without an external refrigeration unit including installation and consume 2/3 less energy. When some prototypes were presented for the first time, they were very well received by customers.
In this interview, Gottfried Huber, Team Leader Product Management/Supermarket, explains more about the development of AHT Jumbos.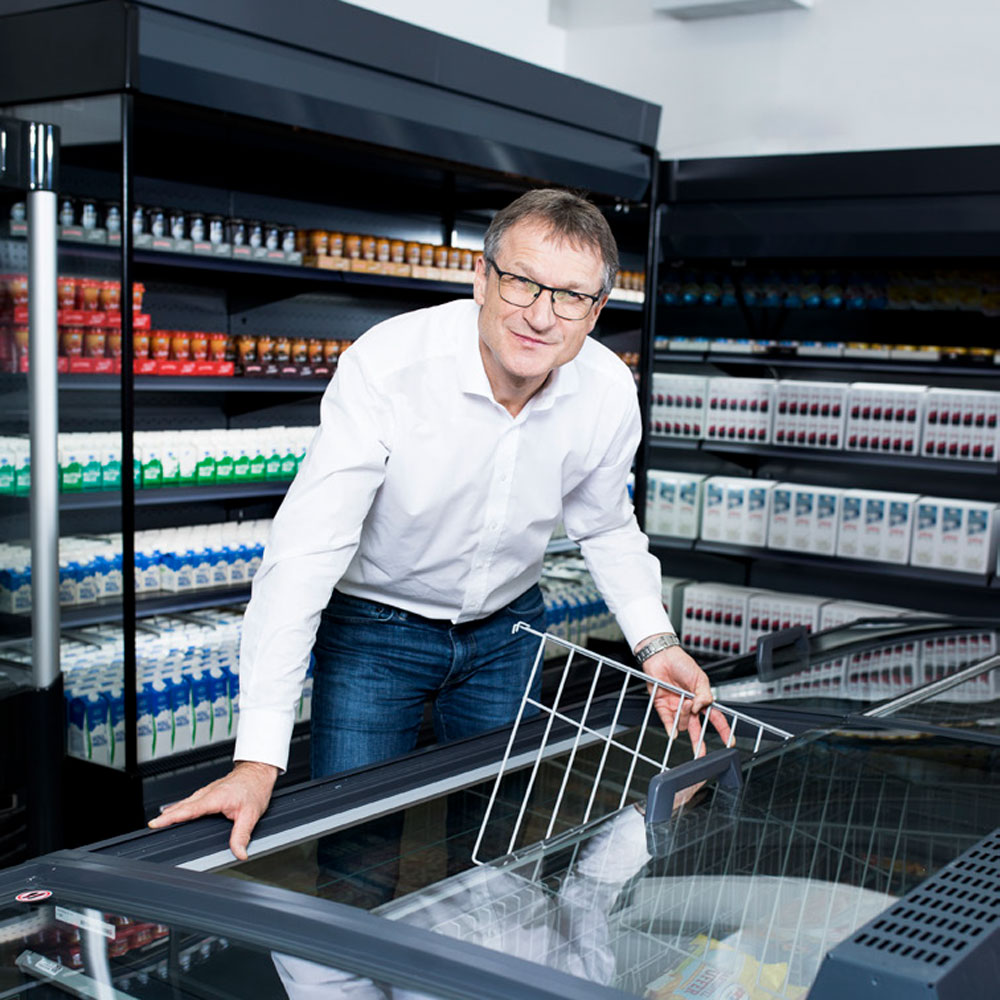 Interview with Gottfried Huber,
Team Leader Product Management/Supermarket
How did the development of the Jumbos as we know them today start?
At the end of the 1980s and early 1990s, the number of frozen products in the food retail sector was increasing. The remote systems were not designed for these range extensions. The demand for easy to set up and flexible freezers increased enormously. At the time we were supplying plug-in ice cream chests and in a discussion with UNILVER the idea of ​​developing plug-in JUMBO chests came up.
What distinguishes the AHT jumbos from similar devices on the market?
At this time, there was absolutely no comparable device on the market. Only ice cream chests with little volume and freezers that were very inflexible and often not expandable. For the increasing number of emerging discounters, our modular chest SALZBURG was the ideal complement to the refrigerated shelves and existing systems. Initially, the chest was only available in two lengths, 210 and 175. SALZBURG 175 was both a length adjustment and a head unit – simple and ingenious!! The SALZBURG 250 came later to reduce the partition walls and increase the volume.
What has changed with the Jumbos from back then? Which innovations did you carry out?
The designs have been changed. From angular devices with straight lids (SALZBURG) to deep glass lids and integrated head units (MIAMI/ATHEN XL). The volume of the devices has been increased and the depth changed so that you can place three pizzas in a row. Due to the improved compressors and other technical developments, large vertical glazing (MONTREAL) can now also be realized.
One of the most important innovations is without a doubt the automatic defrosting of static cooling units. Speed-controlled compressors, connection to the market monitoring system with BUS lines, integrated head units are now the trademark of AHT devices. We have the most energy-efficient devices on the market and overhead cabinets to make optimal use of the space required.